Safe roads Zambia - creating cities for non-motorized transportation users
Project Dates
04 Jan 2020 - 10 Mar 2023
The 3-year-long project is expected to reduce the number of pedestrian and bicycle user fatalities in these cities by 66% by March 2023, saving a projected 600 lives and preventing 1,500 injuries.
Road traffic accidents (RTAs) are the third highest cause of death in Zambia.
In 2017,  road traffic accidents claimed about 2,000 lives and caused 5,500 serious injuries nation-wide, largely among non-motorized transport (NMT) users (Road Traffic Safety Agency, 2017).
Pedestrians and cyclists account for over 60% of the total national RTA fatalities.
Lusaka Province alone accounts for nearly half of Zambia's road accidents and one third of fatalities, with 53% of all road traffic accidents, followed by Copperbelt Province (15%) and Central Province (7%).
The national burden of mortality from RTAs is disproportionate among certain groups.
Among the youth and young adults aged between 15 to 29 years, RTAs are the leading cause of mortality.
Other vulnerable road users include the elderly, women, children, and disabled citizens.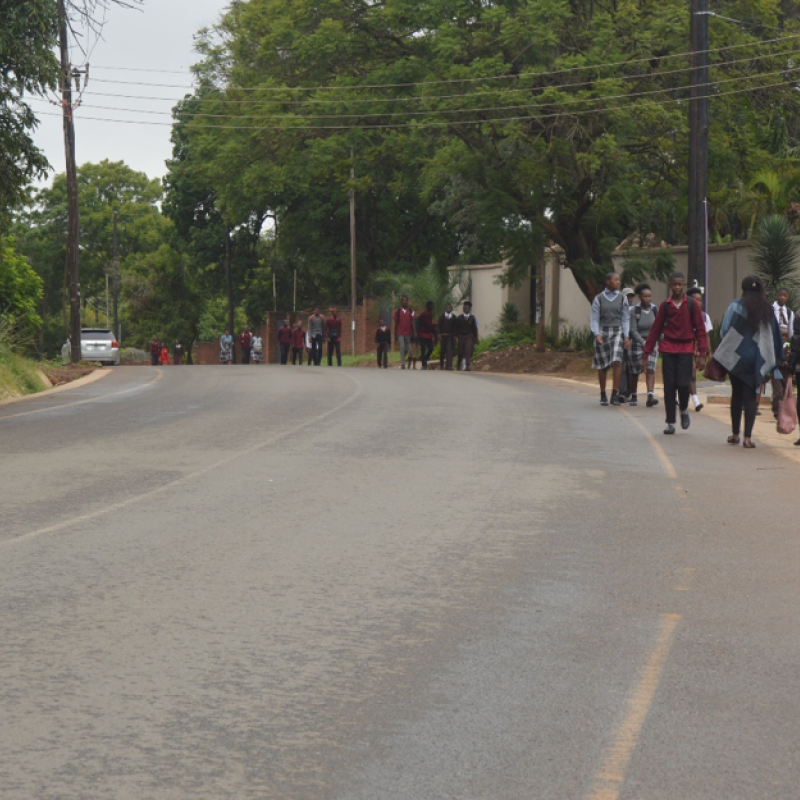 The road standards in Zambia have been set out in the Public Roads Act in 2002. Most plots in Lusaka and other Zambian towns, however, are not properly surveyed and beaconed. As a result, landowners tend to encroach into the road reserves, thereby narrowing the space of the road and leading to unsafe road conditions for pedestrians, cyclists, and wheelchair and public transportation users.
The Government of Zambia has prepared the Zambia Non-Motorised Transport Strategy in 2020.
However, the lack of secured financing and institutional capacity are obstacles for its full and timely implementation.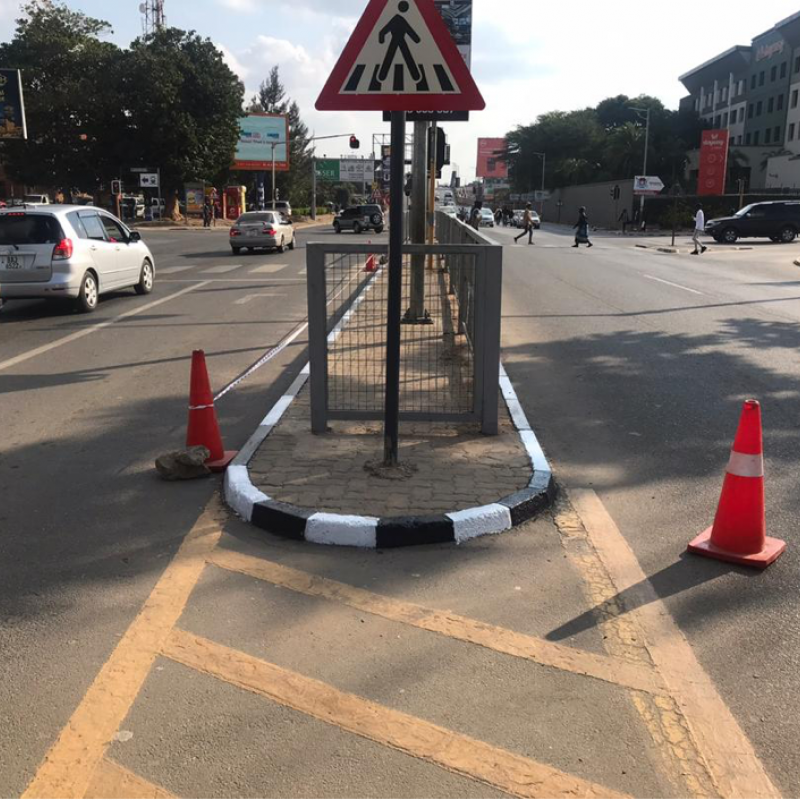 In July 2019, a UNDP-led project 'Pedestrian First Zambia' (PFZ) was launched to support the implementation of the national NMT Strategy, with Lusaka as the pilot city.
The objective of the Safe Roads Zambia - Creating Cities for Non-motorized Transportation Users project is to create safe, inclusive, and sustainable road conditions for pedestrians, through encouraging multisectoral partnerships, private sector involvement, advocacy and fundraising towards safe sidewalks, bike lanes and pedestrian crossings.
Funding was sourced from UN Road Safety Trust Fund and UNEP to fund the project for three years, from April 2020 until 31 March 2023.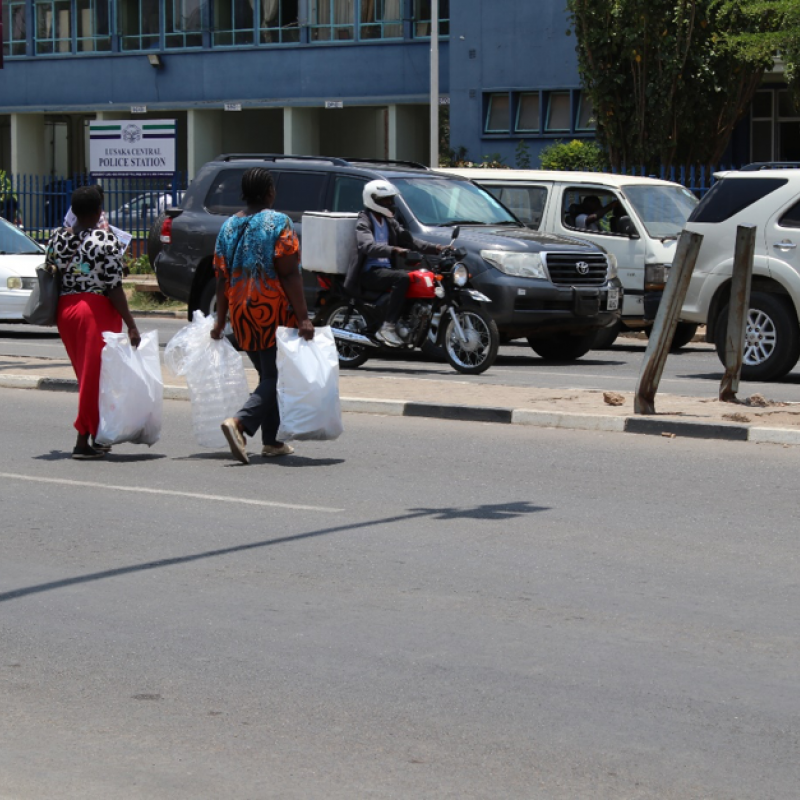 In the coming three years (July 2019- July 2023), the project will support the implementation of the national Non-Motorized Transport (NMT) Strategy by improving road safety for all road users, but focusing on pedestrians, cyclists, wheelchair and public transport users, in order to dramatically reduce fatalities and disabilities among NMT users.
Specifically, the project will develop a resourcing framework for the NMT Strategy implementation; strengthen national and local institutional capacities (including partnerships across sectors and different stakeholders); raise awareness of the safety of NMT users through advocacy; prepare cost-benefit analyses showing the economic savings related to NMT safety interventions; and conduct institutional context analyses that explore the political and legal environments supporting or impeding the NMT strategy implementation.
The proposed project is carried out in the city with the highest number of fatalities: Lusaka.
The Ministry of Local Government oversees the project design and implementation.
Project Objectives
01
BUILD CAPACITY OF VARIOUS KEY STAKEHOLDERS TO STRENGTHEN AND HARMONIZE THE POLICY AND LEGISLATIVE ENVIRONMENT FOR TIMELY AND EFFECTIVE NON-MOTORIZED TRANSPORT (NMT) STRATEGY
02
CREATE MULTI-STAKEHOLDER PARTNERSHIPS TO ADVOCATE FOR THE SAFETY OF ALL NMT USERS
03
PROVIDE INNOVATIVE, PROVEN SOLUTIONS FOR POLITICAL, LEGISLATIVE, AND FISCAL SUPPORT FOR NMT STRATEGY
04
BUILDING CAPACITY AROUND SUSTAINABLE TRANSPORT
05
TAKING A HOLISTIC APPROACH TO SOLVING LUSAKA'S TRANSPORT CHALLENGES BY ENGAGING WITH STAKEHOLDERS TO MAKE THEM UNDERSTAND THE POSITIVE ECONOMIC IMPACTS THAT NMT CAN HAVE THROUGH INCREASED PRODUCTIVITY