OUR IMPACT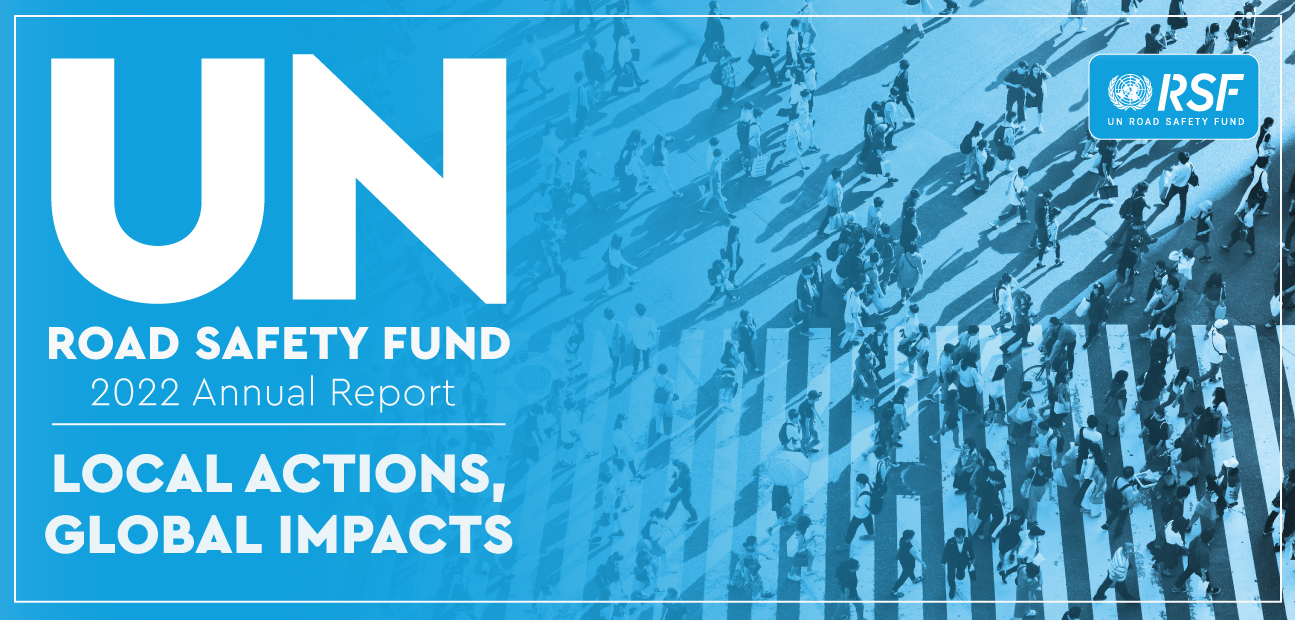 UN Road Safety Fund Annual Report 2022: Local actions, global impacts
Message
Road safety requires long-term commitment and action by governments to improve national systems. Yet, many governments do not have the expertise, evidence and experience on global best practices that are proven to make roads safer. At the Fund we measure our success by the number of countries – facing high traffic deaths and injuries – that can access, and benefit from, joint technical assistance that makes their road safety systems stronger. Five years on, in early 2023, the Fund is proud to have increased our support from 30 to 46 low- and middle-income countries, where road traffic deaths and injuries are the highest in the world.
Nneka Henry
Head, UN Road Safety Fund
GLOBAL IMPACTS



Mainstreaming road safety as a development priority
The Fund helped mainstream road safety as a development priority over the past year. Through its coordination and partner engagement the Fund catalyzed action and investment in road safety across the development community. These efforts highlight our progress in elevating road safety as a development priority and our commitment to making safe roads a core component of sustainable development efforts.
Mobilizing diverse financial supporters
To realize safer roads is to create safer roads. Over the past year, the Fund mobilized a growing and more diverse group of committed financial contributors spanning the public and private sectors, alongside philanthropists, ensuring our ability to create a safer world for road users in more partner countries. And there is a clear scope to engage new partners in the future.
Maximizing technical resources through better coordination
During 2022, the Fund was able to maximize technical resources on road safety through better coordination thanks to its Call for Proposals, which prioritized areas of collaboration. In turn, new Information Sessions held for approved projects in 2022 supported stronger linkages among the road safety community bringing more prospective partners to the table.
Magnifying global advocacy and outreach
We are proud to report that the Fund magnified global advocacy and outreach over the past year, reaching a wider audience and making an impact on building awareness of road safety. This was through our child-focused #moments2live4 social media and postal advocacy campaigns in 2022, in addition to its media engagements as well as a highlights trip to Zambia.
Multiplying countries supported worldwide
We are pleased to report that the Fund multiplied the number of countries supported over the past year, expanding our reach and impact on a global scale. Through our Platforms for Engagement, annual Call for Proposals and multi-stakeholder project planning Information Sessions, we successfully increased our presence in 16 new countries across five regions.
LOCAL ACTIONS



Global Road Safety: 5 key outcomes. Project results from countries across 5 regions
Stronger Road Safety Management

Capacity Improved Safety of Road Infrastructure

Enhanced Safety of Vehicles

Improved Behaviour of Road Users

Effective Post-crash Care Response